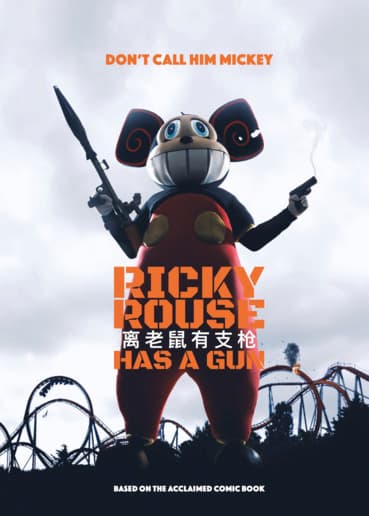 A film written & directed by Jörg Tittel
Producers: Alex Helfrecht, Philip Munger, Yu-Fai Suen
Genre: Action-Comedy
Sales Company: TBA 2019
Adapted from Jörg's critically acclaimed graphic novel, a Boston Globe Book of the Year published by SelfMadeHero, RICKY ROUSE HAS A GUN is an action-comedy currently in development.
It tells the story of RICK, a down-and-out American ex-soldier, washes up in Hong Kong. He finds work at Hucheng World Amusement Park. His job? Greeting visitors dressed as Ricky Rouse, the park's brand-new all original mascot, the brainchild of the park's eccentric owner, TONY HUCHENG.
Whilst HUCHENG takes a fatherly shine to RICK, his niece and deputy, JING-WEI, is distrustful of the brash American.
But when on Christmas day, terrorists disguised as Hucheng World mascots take the park hostage, RICK and JING-WEI will have to work together to free HUCHENG and the hostages from the clutches of the terrorist leader RAMBI and her minions: BUMBO the sniper, MISS PIGLET, WOOFY and a host of HYENAS and evil STORMPOOPERS.
RICKY ROUSE HAS A GUN is a furious, subversive and furry action comedy for a new generation.
"I loved Ricky Rouse Has A Gun, a comic filled with deaths and yet full of life."
Alejandro Jodorowsky
"zany, ambitious... it's hyper, original, and fun"
Publishers Weekly
"Great fun."
London Evening Standard
"A story as thrilling as it is bizarre … a true original"
Bianca Bosker, Huffington Post
"One big heap of fun"
Richard Bruton, Forbidden Planet International
"…what Ricky Rouse really is, when you get right down to it, is Die Hard in Disneyland. And it's awesome…"
Graphic Novel Reporter