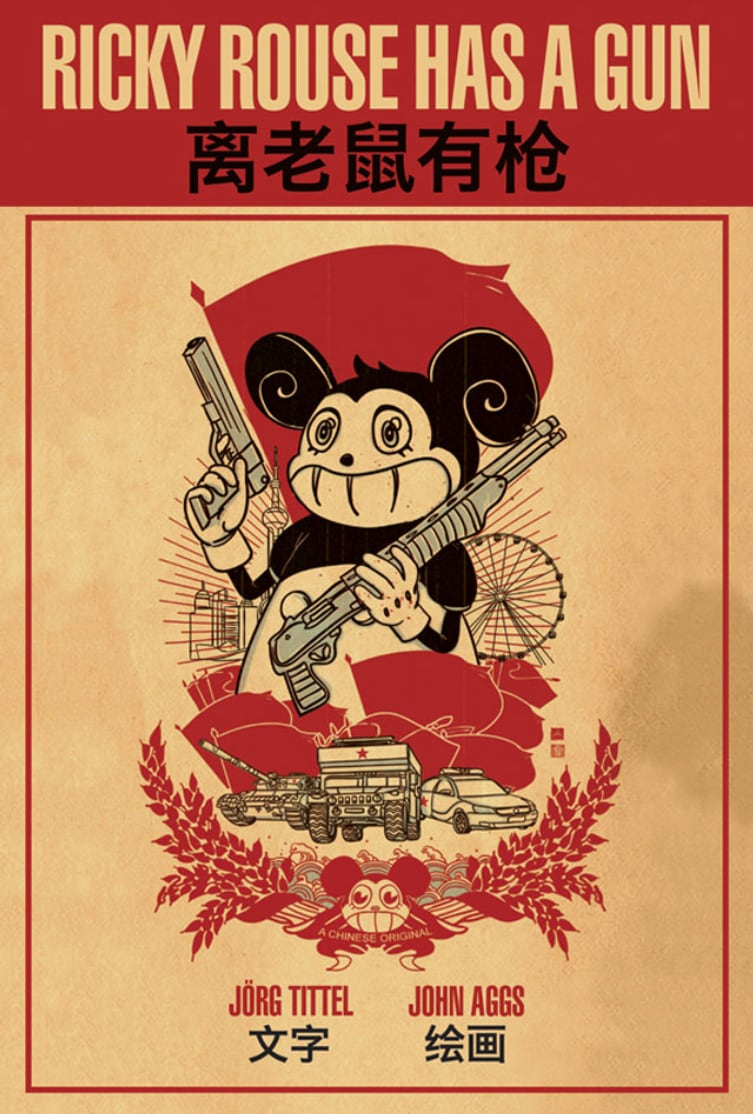 Ricky Rouse Has A Gun is a graphic novel written by Jörg Tittel and illustrated by artist John Aggs. The book was awarded Boston Globe book of the year in 2014 and was published by Self Made Hero.
Rick Rouse is a US Army deserter who, after running away to China, gets a job at Fengxian Amusement Park, a family destination heavily 'inspired' by Western culture, featuring Rambi (the deer with a red headband), Ratman (the caped crusader with a rat's tail), Bumbo (small ears, big behind) and other original characters. The park's general manager is convinced that Rick was destined to greet Fengxian customers dressed as none other than Ricky Rouse.
When terrorists disguised as knock-off mascots take the park hostage, Rick and Jing-Wei have to work together to free Hucheng and the hostages. However, terrorist leader Rambi and her minions - among them Bumbo the sniper, Miss Piglet, Woofy and a host of others — are far more deadly than they look.
This original graphic novel is a relentless action comedy, a satire of US-China relations, a parody of Western entertainment and a
curious look at China, a country that, once we look past its often outrageous infringements, is a culture ripe with innovation and a unique, courageous spirit
RICKY ROUSE HAS A GUN is a furious, subversive and furry action comedy for a new generation.
"I loved Ricky Rouse Has A Gun, a comic filled with deaths and yet full of life."
Alejandro Jodorowsky
"zany, ambitious... it's hyper, original, and fun"
Publishers Weekly
"Great fun."
London Evening Standard
"A story as thrilling as it is bizarre … a true original"
Bianca Bosker, Huffington Post
"One big heap of fun"
Richard Bruton, Forbidden Planet International
"…what Ricky Rouse really is, when you get right down to it, is Die Hard in Disneyland. And it's awesome…"
Graphic Novel Reporter