"I loved Ricky Rouse Has A Gun, a comic filled with deaths and yet full of life."
Alejandro Jodorowsky
"zany, ambitious... it's hyper, original, and fun"
Publishers Weekly
"Great fun."
London Evening Standard
"A story as thrilling as it is bizarre … a true original"
Bianca Bosker, Huffington Post
"One big heap of fun"
Richard Bruton, Forbidden Planet International
"…what Ricky Rouse really is, when you get right down to it, is Die Hard in Disneyland. And it's awesome…"
Graphic Novel Reporter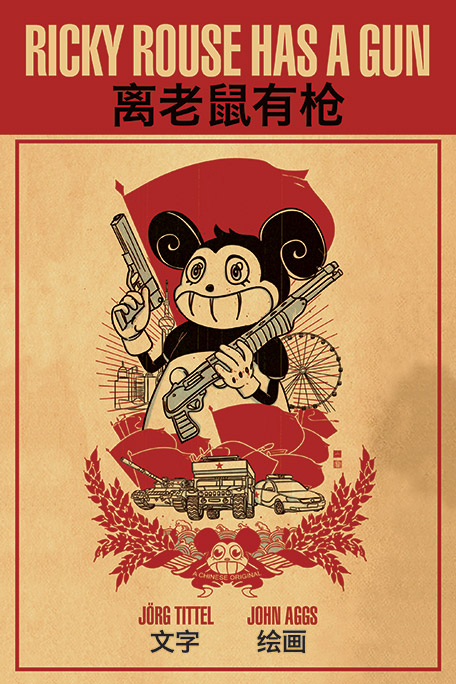 Publisher: SelfMadeHero
Pages: 180 (Full Colour)
Release Date:
June 2014 (Limited Edition Gold Hardcover)
September 2014 (Paperback)

US Army deserter Richard Rouse gets a job at Fengxian Amusement Park, a family destination heavily "inspired" by Western culture, featuring Rambi (the deer with the red headband), Ratman (the caped crusader with a rat's tail), Bumbo (small ears, big behind), and other "original" characters. But when American terrorists take the festive park - and his family - hostage, only Ricky Rouse can save the day. In a furry costume.
Ricky Rouse Has a Gun takes a curious look at China – a country that, once we look past its often outrageous copyright infringements, is ripe with innovation and a unique, courageous spirit.
Jörg wrote the book and conceived a cryptic, satirical online campaign (RickyLeaks), and directed the live-action music video featuring an original track by James Lavelle (Unkle) and a full-size Ricky Rouse costume.